I first got started with LinkedIn Learning back when it was Lynda.com. Since my mom worked for the University of Calgary, she had free access to Lynda.com. I took advantage of that subscription and took my fair share of courses on the platform. I stopped when I entered high school as I began to focus on other things.
A few years later, I came back to Lynda.com, now known as LinkedIn Learning, to improve some of my programming skills. I ended up sidetracking and taking other courses instead of programming on LinkedIn Learning. I was and still am paying for LinkedIn Learning every month, so I wondered, is LinkedIn Learning worth it?
LinkedIn Learning, Formerly Lynda.com

As I mentioned in the introduction, LinkedIn Learning used to be Lynda.com until LinkedIn acquired it in 2015. Microsoft then acquired LinkedIn in 2016 and renamed Lynda.com to LinkedIn Learning.
For the most part, there haven't been drastic changes when Lynda.com became LinkedIn Learning. The interface and the structure of the courses have all remained the same. You're still getting access to the entire library of lessons with one monthly/yearly subscription payment. Even the content is still the same, except for new courses being constantly added to the library.
The main difference now is that you have to create a LinkedIn profile to use LinkedIn Learning, which is annoying for some people.
Otherwise, if you've used Lynda.com before and you're coming back to LinkedIn Learning, not much has changed, with the exception that you'll see a lot more courses. If you've never used Lynda.com before, this is just a little bit of the history behind LinkedIn Learning.
A Huge Collection Of Topics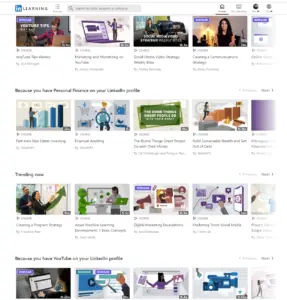 LinkedIn Learning has a massive library of topics. When I first started with LinkedIn Learning, I thought it primarily focused on using software courses.
I was super into LinkedIn Learning's Learning Paths when I first got started. One of the first things I watched when LinkedIn Learning was still Lynda.com was a graphics design learning path. At the time, most of the courses taught things such as programming, using Adobe software, using Autodesk software, and using Microsoft software.
Since then, LinkedIn Learning has become much more extensive. It's crazy how big its library of courses is now. Although I came back to LinkedIn Learning to learn programming, video editing, and CAD drafting, I ended up taking classes on cold calling and creating a successful YouTube channel.
As I'm scrolling through my LinkedIn Learning homepage while writing this article, I'm noticing many different courses in topics that were previously not LinkedIn Learning. Some of these topics include personal development, cryptocurrencies, real estate investment, and even classes on making money online.
Having taken some of these newer courses, though, I will say that some of them are lower quality compared to the other topics. Many of the courses on personal finance and making money have all been meh. They're not bad, but they're not good either. I personally wouldn't buy a LinkedIn Learning subscription for the sole purpose of the make money courses.
But the tech courses, especially the ones teaching you how to use Autodesk and Adobe products, are excellent. There are hardly any courses better than the ones on LinkedIn Learning teaching design software.
Very Professional Training
I talked a little bit about the content already, saying how tech-related content on LinkedIn Learning is pretty good while making money courses are not as good. I haven't taken every course on LinkedIn Learning, though, so I'm sure your experience will differ depending on what course you take.
What does remain constant no matter what course you're taking, though, is the courses' quality. I'm not talking about the content but how the instructors deliver the content to you.
Every course I have taken on LinkedIn is done very professionally. Every teacher on LinkedIn Learning has a teaching plan they're following, so everything comes out smoothly. Each course is also similar in style. Instructors always have the camera change depending on what they're talking about, which gives fantastic context and helps improve our understanding.
Of course, the reason why LinkedIn Learning has such high-quality courses is that people must apply to become a LinkedIn Learning instructor. If you want to become an instructor on LinkedIn Learning, you must apply, and LinkedIn will see if you're a good fit.
Since there's an application process, LinkedIn has effectively filtered out any unqualified instructors and worked with the potential instructors to create high-quality courses.
How Much Does LinkedIn Learning Cost?
LinkedIn Learning comes with any subscription to LinkedIn Premium. According to a Google search, the cheapest plan is the Learning Premium plan, which is $34.99 CAD per month or $29.99 USD per month. If you switch to an annual plan, you will also be able to save nearly 30%.
As far as I know, you cannot buy LinkedIn Learning by itself. You will need to get one of the LinkedIn Premium subscriptions available, which might be somewhat annoying if you don't use any LinkedIn Premium features.
Is LinkedIn Learning Worth It?
For $34.99 CAD per month or $29.99 USD per month, is LinkedIn Learning worth it?
If you have the time to take many courses every month, LinkedIn Learning is definitely worth your money. It has a vast library of high-quality courses with new classes added constantly.
For people interested in learning how to use tools such as Adobe and Autodesk software, you're going to find even more value in LinkedIn Learning. If you're not doing any of that, there will always be something on LinkedIn Learning that will help you out.
LinkedIn Learning courses also integrate very well with your LinkedIn profile. Every course on LinkedIn Learning has a completion certificate that you can easily add to your LinkedIn profile every time you finish a course. Although these certificates aren't the equivalent of university degrees, you can still talk about your LinkedIn Learning certificates in job interviews if you decide to go that route.
LinkedIn Learning is definitely worth it if you use it. If you take many courses every month, your $30 subscription will pay off in the amount of knowledge and number of certificates you're getting.
LinkedIn Learning Individual Courses Review
This article was a general review of the LinkedIn Learning platform. Every course on LinkedIn Learning is different when it comes down to content. Here on Guru Audit, I have reviewed individual courses from LinkedIn Learning and am constantly adding to that list.
Click on the link below to see specific LinkedIn Learning course reviews.
Have you tried LinkedIn Learning before? Any questions or comments about LinkedIn Learning? Make sure you leave them in the comment section down below!
Is LinkedIn Learning Worth It?
$34.99 CAD/mth
Summary
Is LinkedIn Learning worth it? I'll answer with a resounding yes. You can find high-quality courses on nearly every topic on LinkedIn Learning for $34.99 CAD or $29.99 USD per month. If you have the time to take a few courses every month, you'll be getting your money's worth.