I used to be somewhat obsessed with MBAs. For some reason, I kept talking about getting an MBA when I was in middle school. I think it's because I saw random people on YouTube dressed in a suit talking about how they have an MBA. Nowadays, I don't want to do anything related to getting a degree, but that doesn't mean I stopped wanting to learn.
When I saw Chris Haroun's MBA course on Udemy, An Entire MBA in 1 Course:Award Winning Business School Prof, I thought, "Hey, instead of paying thousands of dollars for school, why don't I shell out less than a few hundred dollars and learn all the contents of an MBA course?" And so, I got the course, went through the entire thing, and now I will share my experience. Welcome to my Chris Haroun Udemy MBA course review where I review Chris Haroun's course, An Entire MBA in 1 Course:Award Winning Business School Prof.
What Is Chris Haroun's MBA Course On Udemy?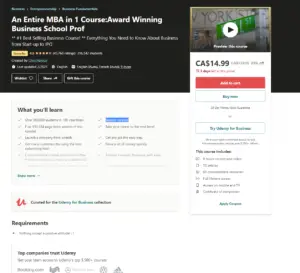 When I bought Chris Haroun's MBA course on Udemy, I didn't pay much attention to the name. I always do a little extra research in all my reviews. I found that Chris Haroun's MBA course on Udemy was actually called, An Entire MBA in 1 Course:Award Winning Business School Prof. I'm somewhat annoyed that that was the full name.
For the sake of this review, I will refer to An Entire MBA in 1 Course:Award Winning Business School Prof as Chris Haroun's MBA course on Udemy or some variant.
Chris Haroun claims that his course is an MBA course without all the impractical, theoretical stuff universities often like to put into their curriculums. And it's pretty good. Obviously, you're not going to get everything you'll be getting from an actual MBA as most MBA programs are two-year full-time programs, but taking Chris Haroun's MBA course on Udemy will give you pretty strong fundamentals if you would like to pursue an MBA or become a businessperson.
However, is Chris Haroun's MBA course on Udemy worth $140 CAD? I'll be looking to answer this question in this Chris Haroun Udemy MBA course review.
The Udemy MBA Course Contents
There are 15 sections in Chris Haroun's MBA course – 16 if you count the bonus section. Chris Haroun teaches the course as if you just started a business. He goes through the general process of going from a start-up to an initial public offering (IPO) and teaches essential concepts along the way.
Here's a summary of what you will be learning in Chris Haroun's MBA course on Udemy:
Section 1: Launching a New Company
The first section is the most extended section of the course and the one I see as most important. In Section 1, Chris Haroun primarily focuses on successful entrepreneurs' qualities and offers tips on growing your career. These tips are the most practical in your daily life, so definitely pay attention to this section.
Section 2: Business Presentations: Use These Tips & Watch Your Sales Take-off!
Section 2 is about business presentations. Chris Haroun talks about how being a good presenter is crucial to doing things such as getting investors and making sales. In this section, he also gives a few general tips on how to present well.
Section 3: Venture Capital (VC) Part 1: How to Raise Money
In Section 3, Chris Haroun introduces venture capital and provides advice on improving your company's management team. The main idea you should take away from this section is how venture capitalists care much more about the people managing your company than what your company does.
Section 4: VC Part 2: Security/Legal Structures to Protect You + Make You More $
Section 4 is part 2 of venture capital where Chris Haroun dives more into the specifics of getting venture capital. The most practical thing you'll learn in this part is what kind of legal business structure you should set up depending on what you want to do.
Section 5: Investor Valuation Topics & Dilution. Importance of Contracts
I would say Section 5 is venture capital part 3. In this section, Chris Haroun goes through a case study of dealing with venture capital firms and some things to note when working with venture capitalists.

Section 6: Financial Analysis

Section 6 is like one of my first-year university business classes except Chris Haroun simplified it for the average person. This is where you learn about some accounting topics and learn how to see a company's general financial health by looking at income statements, balance sheets, cash flow statements, and using financial ratios.
Section 7: Managing Cash Flow
Cash is king. Section 7 is a short section where Chris Haroun talks about various topics such as forecasting, budgeting, fiscal versus calendar years, and ethics.

Section 8: Financial Capital and Securities Law
Section 8 is much more extensive than Section 7 as it's the section that begins to expand on some of the topics introduced in Section 7. A lot of Section 8 has to do with understanding interest, debt, and bonds.
Section 9: Projecting Financial Statements
In Section 9, Chris Haroun introduces the topics of projecting financial statements and valuing companies. He starts this section working with private companies, showing you how to work with companies whose data isn't necessarily available.
Section 10: Due Diligence and Data Sources
In Section 10, Chris Haroun builds a little more on Section 9 and talks about doing your due diligence. This part shows you how to get the data to do financial statement projections and valuations with private companies.
Section 11: Modeling and Valuation
After you learn some of the basics of modeling financials and valuing companies with private companies, Chris Haroun then dives deeper using public companies. This part is exciting if you have an interest in picking stocks. After this section, you should have a better understanding of finding companies that are strong financially.
Section 12: Initial Public Offering (IPO) and Valuation
Section 12 helps you even more if you want to buy stocks. In Section 12, Chris Haroun discusses how an Initial Public Offering (IPO) works and some more stuff on valuing companies. With the examples he's presenting, you'll get a good idea of what would be a good investment.
Section 13: Management Analytical Frameworks
Chris Haroun takes a slight turn away from IPO topics and begins talking about management consulting in Section 13. If you want to be some sort of business consultant, this section is an excellent introduction to what the job entails.
Section 14: Alternatives and Turnarounds
What happens if your company gets too big and stops growing as fast? In Section 14, Chris Haroun goes through what you can do in situations where your business growth is slowing drastically. Again, this section is pretty helpful for those looking to invest in stocks.
Section 15: Crucial Leftover Content / Goal Setting Workshop / Closing Remarks
The final section is all about personal development. This section is basically about setting goals, investing in yourself, and finding mentors. Essential stuff, but this stuff is all over the internet.
Throughout each section, Chris Haroun also brings up various external resources to look at. For example, he brings up Steve Jobs a lot and wants you to check out some of the videos of Steve Jobs presenting or talking about what makes him successful.
Chris Haroun also has a "Side Note" video in every section, which I find very helpful. These side notes are mostly personal development stuff where Chris Haroun gives you some tips on succeeding in your career and life.
If you prefer reading over watching videos, Chris Haroun included an online textbook to make Udemy MBA course similar to an actual MBA class you may take.
That's about it for what's in the course. Now let's move onto some of the things I like about Chris Haroun's Udemy MBA course!
What I Like About The Udemy MBA Course
1. Chris Haroun Is An Amazing Teacher
Chris Haroun is one of the best teachers to learn from. He's an award-winning MBA professor and deserves it. He has a ton of experience working in various business industries and teaching, so you know the content you're getting is legit.
As a teacher, Chris Haroun is good at simplifying complicated concepts and making his classes engaging. Unlike my first-year business course, each 20-minute video in Chris Haroun's Udemy MBA course doesn't feel like he's been going on for hours.
2. Good For All Types Of People
Chris Haroun's Udemy MBA course is quite good because it can help everyone even if you don't plan to start your own company or even work in the business industry. If you are a scientist who solely works in the field of finding the cure for cancer, you can still benefit from some of his tips, such as meeting with someone once every week.
3. Chris Haroun's Udemy MBA Course Is Credible
The third thing I like about Chris Haroun's Udemy MBA course is that it feels legitimate. It comes with a completion certificate and quizzes in every section. When you finish the course, you can add the completion certificate to your LinkedIn profile, and it'll feel like you completed a quick university course.
What I Don't Like About The Udemy MBA Course
1. The Course Is Too General
Okay, I get it. Chris Haroun designed his Udemy MBA course to be as close to reality as possible. Chris Haroun has eliminated many of the theoretical and complex topics from an actual MBA to make the course more applicable to the average person.
But throughout the course, there were many occasions where I just wanted Chris Haroun to get more specific on whatever he was teaching. For example, all I got out of his accounting section was to use software to do accounting for you. While going into complex accounting topics and other things might turn off the everyday person, I would have liked bonus sections for people that were more well-versed in business and wanted to learn more.
2. The Price Is Too High
My complaint with Chris Haroun's Udemy MBA course's price is a follow-up to my first complaint about the course being too general. With a base price of $139.99 CAD (approximately $112 USD depending on the exchange rate), it is way too expensive for what you're getting.
Luckily, I did get Chris Haroun's Udemy MBA course at a massive discount which made the price much more worth it. But if you're going to buy the course at its base price, I highly recommend you wait until it goes on sale.
How Much Does The Udemy MBA Course Cost?
Like I mentioned in the section above, you'll be paying $139.99 CAD or approximately $112 USD depending on the exchange rate. Udemy has a system where they will show you prices based on your location, and it doesn't seem like I can change the location to see different prices in different currencies.
Udemy often has sales where they will drop the prices on multiple courses significantly. For example, I'm looking at Chris Haroun's Udemy MBA course as I'm writing this and the price is $14.99. That's an 89% discount!
In terms of cost, the Udemy MBA course will be your only cost. There are no extra things you have to buy to take the course.
Is The Udemy MBA Course Worth It?
So, is Chris Haroun's Udemy MBA course worth it? At its base price of $139.99 CAD? Absolutely not. But if you see the course with a considerable discount, you might consider buying it. It'll be like buying a business book if the course is on sale.
However, even if the course is on sale and has that great value associated with it, you might not want to buy it. Although I believe the course is quite good, it isn't necessary to become successful in life. Taking the course won't be a complete life-changer that will take you to your dreams either.
Chris Haroun's Udemy MBA course is something I would take for fun. If you have a little bit of extra cash, some free time, and an interest in business, by all means, take the course for fun. But if you're trying to change your life completely, you might want to look at something else.
Chris Haroun's Udemy MBA Course Review
That's it for my review of Chris Haroun's Udemy MBA course. I hope you enjoyed this Udemy MBA course review. If you have any questions and/or comments, please leave them down below, and I'll do my best to get back to you as soon as possible.
Have you tried Chris Haroun's Udemy MBA course before? Let me know in the comment section down below!
Chris Haroun's Udemy MBA Course Summary
$139.99 CAD
Summary
Chris Haroun's Udemy MBA course is an awesome introduction to an actual MBA program and is perfect for those who are interested in business but don't want to pay for an entire MBA program. I recommend buying this course if you have a little extra cash, some free time, and have an interest in business topics. This program isn't something you should pursue to change your life, though.